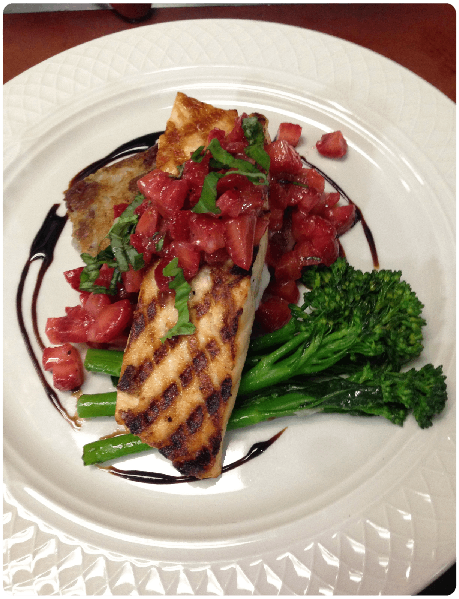 Families & Commercial Events
Meals for 2-20 cooked in your kitchen or delivered ready-to-serve
Beautifully plated multi-course dinner

Family-style platter meals

Expert at dietary restrictions, allergies, gluten-free, etc.

Commercial events, up to 50 people
Meal Concepting, Recipes, & Shopping Consulting
Everything is set up to do it yourself or with Chef Jed's oversight

Jed's prices are typically 10-20% lower. Unlike many chefs who work through agents, Jed works directly with clients. He cooks in his own kitchen and buys directly from many growers and suppliers.

Chef Jed provides regular weekly clients with daily meals delivered to their refrigerators ready to warm and serve.
Our family had a reunion in beautiful Santa Barbara 2021 mid-pandemic. We rented a VRBO for 3 families near the Mission. Nervous about exposure and eating out/ to-go food we decided to go with a pro chef to supplement out decent cooking skills. Best call ever! Chef Jed took care of all the shopping, prep work, service, and clean-up allowing the family to spend much needed time with our ailing grandfather. Jed's food is nothing short of delicious and he absolutely hit the nail on the head for our big 4-course plated dinner which was Grandpa's requested Shepard's pie. Absolutely delicious! I would highly recommend Jed for any food related work and we can't wait to visit again. Chef Jed gets an A on everything.
The Barnett family. Tucson, AZ.
Jed has been my personal chef for over five years. He can prepare just about any dish I request and make adjustments to accommodate the variety of dietary preferences/needs of family and guests. Whether for me alone or a gathering of thirty, his meals are consistently delicious, nutritious, and creative. Jed is a long time Santa Barbara local with many trusted contacts to source fresh, organic ingredients directly from the sea, farm, and markets. My guests and I love Jed's sensitive attention and warm sense of humor.
William Peters, Psychotherapist and author. Santa Barbara CA